Five Guys

Johnston Road
11:00
-
22:00
11:00
-
22:00
11:00
-
22:00
11:00
-
22:00
11:00
-
22:00
11:00
-
22:00
11:00
-
22:00
營業時間
营业时间:
一周中的天
Hours
蒙塔格

11:00

-

22:00

星期二

11:00

-

22:00

星期三

11:00

-

22:00

星期四

11:00

-

22:00

星期五

11:00

-

22:00

星期六

11:00

-

22:00

星期日

11:00

-

22:00
营业时间:
一周中的天
Hours
蒙塔格

11:00

-

22:00

星期二

11:00

-

22:00

星期三

11:00

-

22:00

星期四

11:00

-

22:00

星期五

11:00

-

22:00

星期六

11:00

-

22:00

星期日

11:00

-

22:00
送貨
一周中的天
Hours
蒙塔格

11:00

-

22:00

星期二

11:00

-

22:00

星期三

11:00

-

22:00

星期四

11:00

-

22:00

星期五

11:00

-

22:00

星期六

11:00

-

22:00

星期日

11:00

-

22:00
關於 Five Guys Johnston Road
歡迎來到 Five Guys 的 Hong Kong Island 60 Johnston Road 分店!誠意為您奉上餐點,相信一定能滿足您期望!我們漢堡、熱狗與三文治配料組合超過 250,000 種,奶昔配料更多達 1,000 款,各適其適。而我們的薯條同樣鼎鼎大名,以「小食亭」手法烹製,每日在店內新鮮手切,以 100% 純花生油香炸,並備有 Five Guys 風味及辣香料風味,您又鍾情哪一款?Five Guys 美食樂趣無窮,期待您來體驗!
看我們在行動
我們與別不同之處
Thousands of Combinations

Our 15 free toppings mean you can enjoy over 250 000 combinations. So you can enjoy your usual, or never eat the same Five Guys twice.

Hand-Cut Fries

Our fries are hand-cut in store from fresh potatoes every day. And, whatever size you order, you'll always find and extra scoop tipped into your bag.

Fresher Than Fresh

We never use frozen ingredients and we always cook everything fresh from scratch. It's how we like our food and, we're pretty sure, how customers do too.
€
Burger
額外的服務嗎?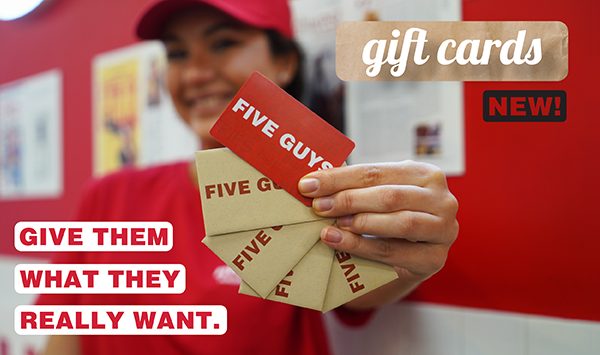 Five Guys Gift Cards now available in store!
Whether it's a present for a Five Guys fan or someone that is yet to try our delicious Burgers & Fries, the Five Guys Gift Card is the perfect present. Find your nearest Five Guys today!