Five Guys
11:00
-
22:00
11:00
-
22:00
11:00
-
22:00
11:00
-
22:00
11:00
-
22:00
11:00
-
22:00
11:00
-
22:00
Five Guys

Kowloon
11:00
-
22:00
11:00
-
22:00
11:00
-
22:00
11:00
-
22:00
11:00
-
22:00
11:00
-
22:00
11:00
-
22:00
Hours
Store Hours:
Day of the Week
Hours
Monday

11:00

-

22:00

Tuesday

11:00

-

22:00

Wednesday

11:00

-

22:00

Thursday

11:00

-

22:00

Friday

11:00

-

22:00

Saturday

11:00

-

22:00

Sunday

11:00

-

22:00
About Five Guys Kowloon
Welcome to your local Five Guys at 18 Salisbury Road in Kowloon. It's your meal, so we believe that you should get exactly what you want. That's why we've got more than 250,000 possible topping combinations for you Burgers, Hotdogs and Sandwiches. Not to mention 1,000 different Shake mix-in combinations. Our famous fries are a 'boardwalk style' fry, meaning they're hand-cut on site each day and cooked in 100% peanut oil, will you go for Five Guys Style or spice things up with our Cajun fries? Join in on the fun at Five Guys, we look forward to welcoming you soon.
Services Available
In-store seating

Wheelchair accessible entrance

Good for kids

Delivery

Takeout

Beer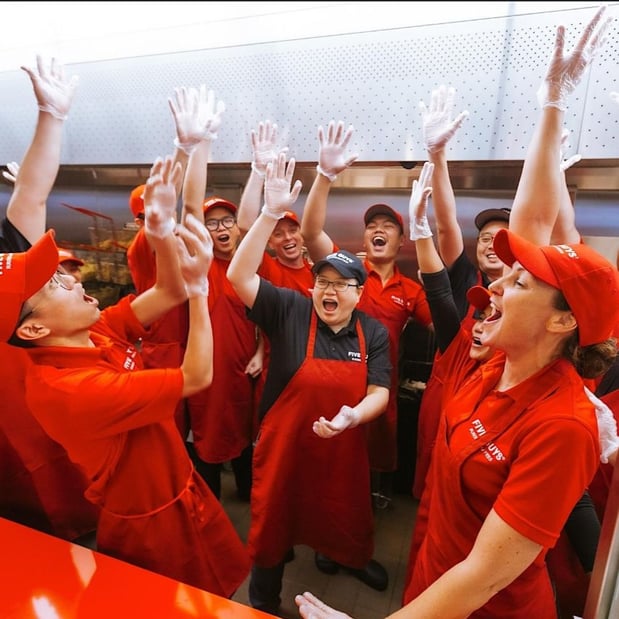 NOW HIRING AT FIVE GUYS K11!
What do we offer you at Five Guys K11? Opportunities to learn and grow within Five Guys. A fun and high-energy working environment. Travel to overseas. Comprehensive medical insurance coverage. Salary of Part Time HKD65-HKD70 per hour / Full Time Crew Member up to HKD17,000 / Shift Leader up to HKD20,000 / Assistant Manager up to HKD26,000. Secret Shopper Bonus Program: Earn extra cash twice a week through good ratings from our mystery shoppers. In addition, you have a chance to win a monthly mega bonus and additional awards throughout the year! Five Guys Games: A worldwide tournament where you can show your skills and earn cash. From Grill to Glory!
JOIN THE FIVE GUYS K11 TEAM TODAY
What makes us unique?
千种组合

我们的 15 种免费浇头意味着您可以享受超过 250,000 种组合。这样您就可以像往常一样享受,或者永远不会两次吃同样的五个人。

FIVE GUYS 经典滋味薯条

我们的薯条每天都是用新鲜土豆在店内手工切制而成。而且,无论您订购什么尺寸,您总能在包中找到额外的勺子。

比新鲜更新鲜

我们从不使用冷冻原料,我们总是从头开始烹制新鲜的食物。这就是我们喜欢我们的食物的方式,而且我们非常确定,顾客也是如此
€
Burger