Five Guys
11:00
-
22:00
11:00
-
22:00
11:00
-
22:00
11:00
-
22:00
11:00
-
22:00
11:00
-
22:00
11:00
-
22:00
Five Guys

APM Mall
11:00
-
22:00
11:00
-
22:00
11:00
-
22:00
11:00
-
22:00
11:00
-
22:00
11:00
-
22:00
11:00
-
22:00
Find Us
Millennium City 5, No.418 Kwun Tong Road
Shop No. C-2 on Concourse Level of the Lower Commercial Accommodation
HK
fg5016@fiveguys.com.hk
Hours
Store Hours:
Day of the Week
Hours
Monday

11:00

-

22:00

Tuesday

11:00

-

22:00

Wednesday

11:00

-

22:00

Thursday

11:00

-

22:00

Friday

11:00

-

22:00

Saturday

11:00

-

22:00

Sunday

11:00

-

22:00
About Five Guys APM Mall
Welcome to your local Five Guys at Millennium City 5, No.418 Kwun Tong Road in Kowloon. It's your meal, so we believe that you should get exactly what you want. That's why we've got more than 250,000 possible topping combinations for you Burgers, Hotdogs and Sandwiches. Not to mention 1,000 different Shake mix-in combinations. Our famous fries are a 'boardwalk style' fry, meaning they're hand-cut on site each day and cooked in 100% peanut oil, will you go for Five Guys Style or spice things up with our Cajun fries? Join in on the fun at Five Guys, we look forward to welcoming you soon.
Services Available
In-store seating

Delivery

Maestro

Takeout

Beer
What makes us unique?
Thousands of Combinations

Our 15 free toppings mean you can enjoy over 250 000 combinations. So you can enjoy your usual, or never eat the same Five Guys twice.

Hand-Cut Fries

Our fries are hand-cut in store from fresh potatoes every day. And, whatever size you order, you'll always find and extra scoop tipped into your bag.

Fresher Than Fresh

We never use frozen ingredients and we always cook everything fresh from scratch. It's how we like our food and, we're pretty sure, how customers do too.
€
Burger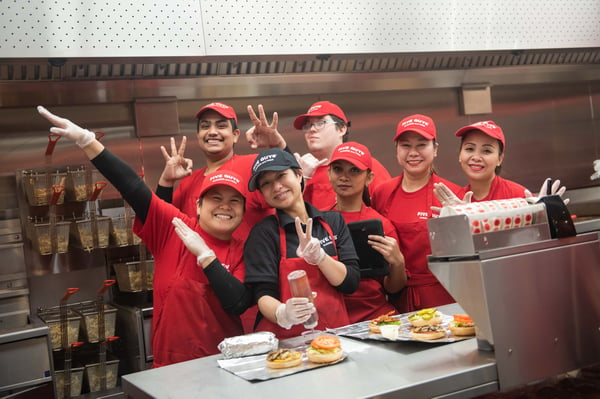 NOW HIRING AT FIVE GUYS JOHNSTON ROAD!
What do we offer you at Five Guys Johnston Road? Opportunities to learn and grow within Five Guys. A fun and high-energy working environment. Travel to overseas. Comprehensive medical insurance coverage. Salary of Part Time HKD65-HKD70 per hour / Full Time Crew Member up to HKD17,000 / Shift Leader up to HKD20,000 / Assistant Manager up to HKD26,000. Secret Shopper Bonus Program: Earn extra cash twice a week through good ratings from our mystery shoppers. In addition, you have a chance to win a monthly mega bonus and additional awards throughout the year! Five Guys Games: A worldwide tournament where you can show your skills and earn cash. From Grill to Glory!
JOIN THE FIVE GUYS JOHNSTON ROAD TEAM TODAY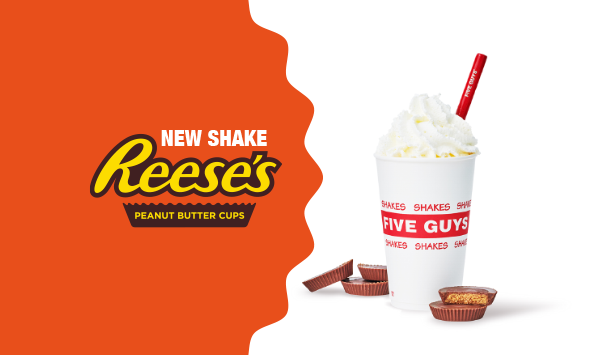 REESE'S PEANUT BUTTER CUPS
Enjoy a brand new mix-in for your Shake, made with Reese's Peanut Butter Cups to give you a chocolatey, rich and nutty flavour. Great on its own or with a burger.
Order Now